26 June 2009
Once upon a time…
Fashion, dresses, shoes, bags… A passion. Sometimes a little struggle. At least for me. When I open almost every women fashion magazine searching for inspiration what do I find? Super models, wonderful photoshots and of course designer dresses. Yes, perfect, but what do I do with them? Where could I go dressed like that? Little inspiration, often (personal) frustration.
Then I saw the light: fashion blogger's world. "Normal" girls – I know you hate this definition as much as I do – excellent stylists. That show easy-to-wear and mostly low cost styles. That we can easily buy everywhere (please let me consider here just the positive side of the globalization affair). And most important: looks that are really inspiring and that help me find an answer to everyday question "What should I wear today?" or "Yes, I've bought a beautiful item but now how to mix it?".
On this blog I will collect and put together ideas and looks from the web. One item = many ways to wear it. I hope you will report me also your looks each time I present a trend or a single item to put them on the blog.
Behind the blog's name:
Blue is in fashion this year ("Le bleu est à la mode cette année") is a quote from french sociologist and linguist Roland Barthes who analized fashion language in the 60s. Magazines are the ones that somehow "force what will be in fashion each season". A color for example. We know it's a bit nonsense, but it happens still today. Street style is protagonist here instead. To make fashion (maybe) more individual. And accessible.
P.S. The home page and post illustrations are made by talented Karin Kellner. You can find other works of her here.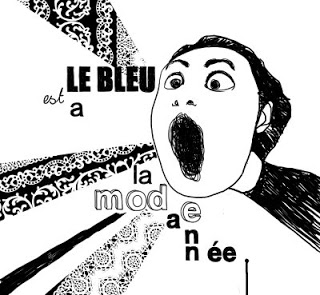 Moda, abiti, scarpe, borse. Una passione. A volte però un po' una fatica. Almeno per me. Apro qualsiasi rivista femminile per cercare ispirazione e cosa trovo il più delle volte? Super modelle, fotografie e ovviamente magnifici abiti firmati. Ok, perfetto, ma io cosa me ne faccio? Dove ci vado (anche potendomeli permettere) conciata così? Nessuna ispirazione, spesso (personale) frustrazione.
E poi la luce: il mondo delle fashion bloggers. Ragazze "normali" – so che odiate questa definizione quanto me – stylist eccellenti. Che indossano e mostrano capi per tutti i giorni, low cost, che troviamo facilmente ovunque (in questo blog permettetemi di considerare solo il lato positivo della faccenda globalizzazione). E soprattutto che davvero mi ispirano e mi aiutano a rispondere alla fatidica domanda "Cosa cavolo mi metto oggi?" e "Benissimo, ho comprato questo ma ora come lo abbino?" L'obiettivo di questo blog è di raccogliere e assemblare idee e look dal web. Un unico capo = diversi modi di indossarlo. Spero che voi possiate segnalarmi i vostri look dedicati alle tendenze che presenterò di volta in volta per poi metterli sul blog.
Sulla scelta del nome:
Blue is in fashion this year ("Le bleu est à la mode cette année" ovvero Il blu va di moda quest'anno) è una citazione del sociologo e linguista francese Roland Barthes che negli anni '60 aveva analizzato il linguaggio della moda. Quello delle riviste che in un certo modo "imponevano cosa fosse di moda ogni stagione". Ad esempio un colore. Sappiamo che è assurdo, eppure capita ancora oggi… Qui è lo street style ad essere protagonista. Per creare moda (forse) più personale. E accessibile.
P.S L'illustrazione della home page e di questo post sono di Karin Kellner. Potete trovare altri suoi fantastici lavori qui.