4 November 2015
"Social media is not real life": is Essena O'Neill revolutionary?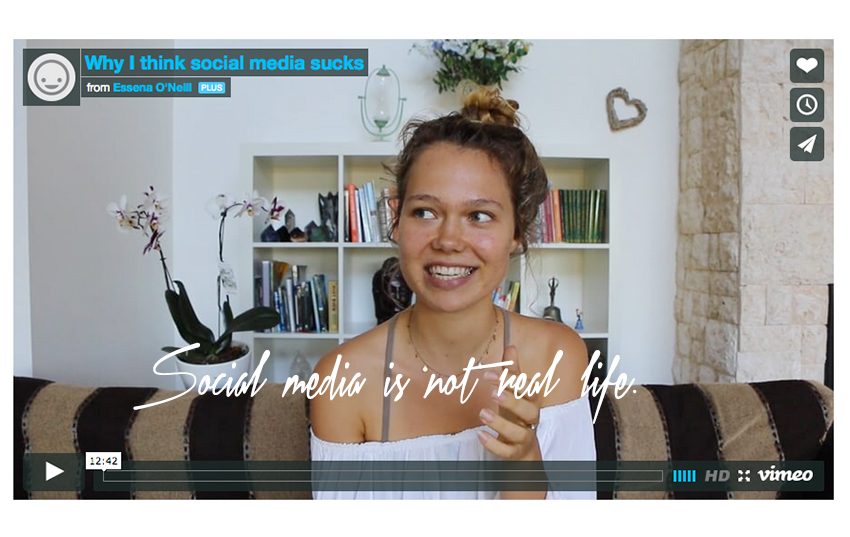 Yesterday's "social" news published by almost every fashion site or online magazine was about Essena O'Neill, a nineteen year old girl who has accused social media to be "fake and not showing real life." Essena was what today is (horribly) called a web influencer, with an Instagram account with more than 500,000 followers and a YouTube channel (which I did not understand what it was about) equally well-known and a modeling career. On her Instagram Essena published daily photos, of course sponsored, where she wore swimsuits or advertised for other brands. But then she decided to quit, to close her YouTube channel and to delete most of her Instagram pictures because they were "fake". Her yoga on the beach? Fake. Her beautiful pictures? The result of hours of make up and attempts to find the perfect shot that made her already perfect body looking even more skinny. Essena became obsessed by all of this, followers and likes were never enough and she always felt unhappy, sick and depressed. So she decided to change her "life".
This story was presented by media as almost heroic, and to get the coverage it got I may also add as somehow "revolutionary". However the story has left me rather cold. Instagram is fake? It does not represent real life of people? Hey, really?! I'm sure it wasn't Essena the first to recognize it. But for me the point is not that either. Social media itself is not fake. The most important lesson I learned from my sociology of communication studies was that a medium is never good or bad itself. Since it is a medium. It's the content that you can pass through it that can be positive or negative. Interesting or boring. Fake or real. There are bloggers on Instagram that photoshop their faces, noses and legs. That show a life always being over the top. A perfect life, without sadness or difficulties, that everyone can envy. And there are people who don't.
Essena says she wanted to break up with social media but she did it with a series of videos. Through her new website, "Let's be Game Changers" she will promote her new self, the better version of herself. A video that went viral. A video where she asks people who share her same point of view for an economic support, because the 500$ for bikini photos are gone at the end. But she is still asking for money on the web. And that's where her revolutionary theory comes out as a weak one to me. I do not question her reasons, she looks sincere in her videos I watched. But her exhortations to turn off our smartphones, to leave the house to talk to people, to go out to a park to meet new people "because real life is there," sounds a bit naif to me and rather obvious.
Dear Essena, there have always been people on the web who have never forgotten what "real" life is about. That despite having an Instagram account and maybe working through it, still have values, a conscience and who kept the right balance to reality. That have always known that family, friends and love is all that matters. Some people become obsessed by followers and numbers on social media. Some people show a fake life. And some other don't. Never did. But it seems they never made it to be in the news.