19 May 2017
Give us Fashion back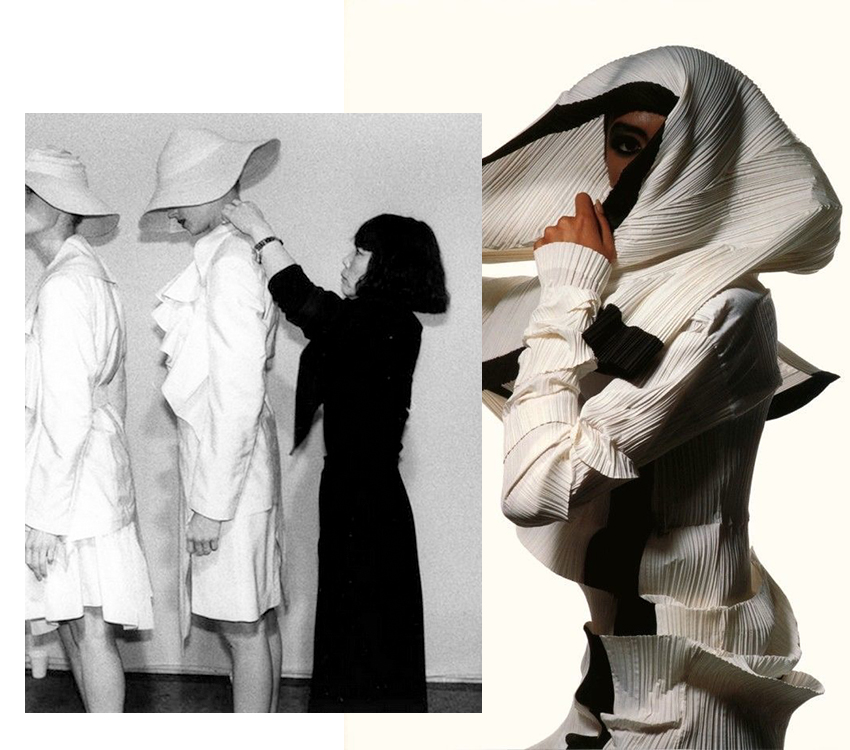 "We live in a world of disposable music, fast food music without any content, so I think this could be a victory for music, for people that make music that actually means something. Music is not fireworks, music is feelings, so let's try to change this and bring music back, that's what matters".
These are the words spoken live by Salvador Sobral, a Portuguese singer, right after winning the 2017 Eurovision Song Contest a few days ago. Even if I don't like his song so much, I listen to different kind of music, but I DO like his attitude, his words. Spoken in front of 20 millions viewers all across Europe. A guy that had something more to say than "OMG! Amazing!". That made a critical statement.
Replace the word music with fashion and we have the same problem. I want to talk about fashion, in fact. Do you remember the well-known cerulean sweater worn by Andy in The Devil Wears Prada movie, the lumpy one that the poor ignorant Andy had bought for a few bucks?* It was the symbol of great work and deeper meaning that lies behind a blue sweater, that lies behind Fashion. Well, I'm sorry, but today most of the people shop like Andy but believe to be Miranda. They think fashion means easy and constant shopping. All approved and encouraged by the Devil himself, by the fashion system. Because even the Oscars and Yves have abdicated their role, to be visionaries, creators, innovators, artisans. The profound meaning of cerulean blue has been replaced by a better looking colour, million-dollar-green. Too many designer items are just stuff today.
Today fashion is showed and "told" us by celebrities and influencers who do not even know who Margiela or Yohji Yamamoto are, who probably have never seen or touched a tailored garment produced before 2001. They recommend us wearing red boots because they are "red", to buy new jackets because they are "pretty".
Do we still want to believe that's what fashion is all about? Do we want them to keep telling us that clearance bin's-like fast fashion will make us look stylish? Do we want to be satisfied with designers, that instead of elevating us, are producing their runway garments in Bangladesh, the same quality as the clearance bin ones? Do we want to think that people having KKK followers and $$$ in their bank accounts are our only reference model? That they have the right to be our reference model just because of that?
Because Salvador also is a winner. He spoke as an "influencer". In front of 20 million people.

*From The Devils Wear Prada, 2006 – cerulean sweater scene: "This stuff'? Oh, ok. I see, you think this has nothing to do with you. You go to your closet and you select out, oh I don't know, that lumpy blue sweater, for instance, because you're trying to tell the world that you take yourself too seriously to care about what you put on your back. But what you don't know is that that sweater is not just blue, it's not turquoise, it's not lapis, it's actually cerulean. You're also blindly unaware of the fact that in 2002, Oscar de la Renta did a collection of cerulean gowns. And then I think it was Yves St Laurent, wasn't it, who showed cerulean military jackets? And then cerulean quickly showed up in the collections of eight different designers. Then it filtered down through the department stores and then trickled on down into some tragic "casual corner" where you, no doubt, fished it out of some clearance bin. However, that blue represents millions of dollars and countless jobs and so it's sort of comical how you think that you've made a choice that exempts you from the fashion industry when, in fact, you're wearing the sweater that was selected for you by the people in this room. From a pile of "stuff.".
Cover photos:
Comme des Garçons, backstage – 1987; Issey Miyake by Irving Peng
Salva
Salva
Salva
Salva
Salva
Salva
Salva
Salva
Salva