30 March 2017
Great Korean Skincare: KICHO Cosmetics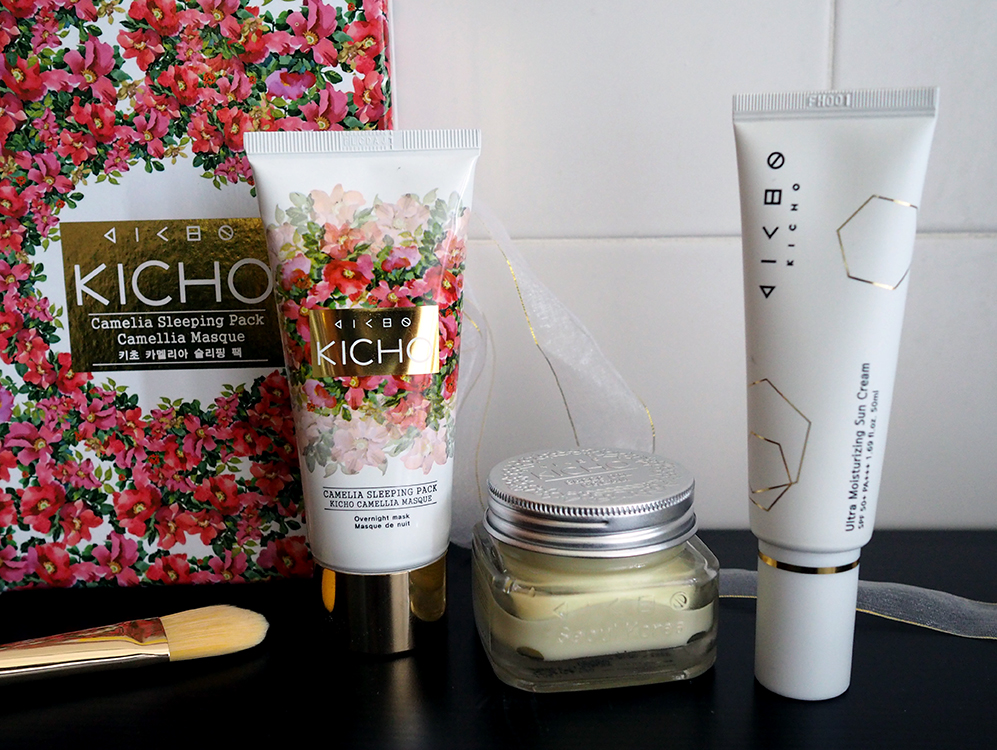 I review a lot of skincare products on my blog so if I say "trying these products got me really excited" it may sound flat. You know, just usual bloggers' blah blah. But these Kicho products got me really – and I mean it for real – excited. Great ingredients, great results and super packaging. KICHO is a Korean skincare company. Kicho means "basic," (기초) in Korean, and refers to their natural approach to skincare: they avoid unnecessary and harmful ingredients. And rather stick to high-quality, natural, proven ones, sourced from around the world. Kicho has been in skincare business for 50 years. Here are the three products that I tested and I have been using for a month.
KICHO ULTRA MOISTURIZING SUN CREAM
Since I got to try them three years ago I only use Asian sunscreens now, they feel different, have higher protection (SPF50 is the norm) and they have such better texture. Kicho's sunscreen offers high sun protection and is perfect and effective to wear under make up. It protects from UVA and UVB rays, gently covers with a fresh moisturizing texture that absorbs easily and with a light finish. It's the best sunscreen I've found to wear under make up. It feels like a good moiturizer or primer. And if I can say it, I got hooked by its packaging. Minimal white pump with geometric gold hexagons? Soo nice! This moisturizing sun cream is specifically formulated for the face, it has a gentle fruity-flowery scent (none of that terrible SPF smell you get sometimes here), and it's easy and pleasant to apply. Kicho's suncream feels much more like a hydrating daytime moisturizer. This cream is additionally fortified with skin-loving ingredients like Kicho's proprietary soybean plant placenta which encourages skin rejuvenation and regeneration, antioxidants including green tea, gingko, wheat, soy, and allantoin which moisturizes. It does not contain benzophenone, artificial dyes, talc, mineral oil. If you are looking for a good sunscreen for Spring and Summer that works great under make up I can really recommend it.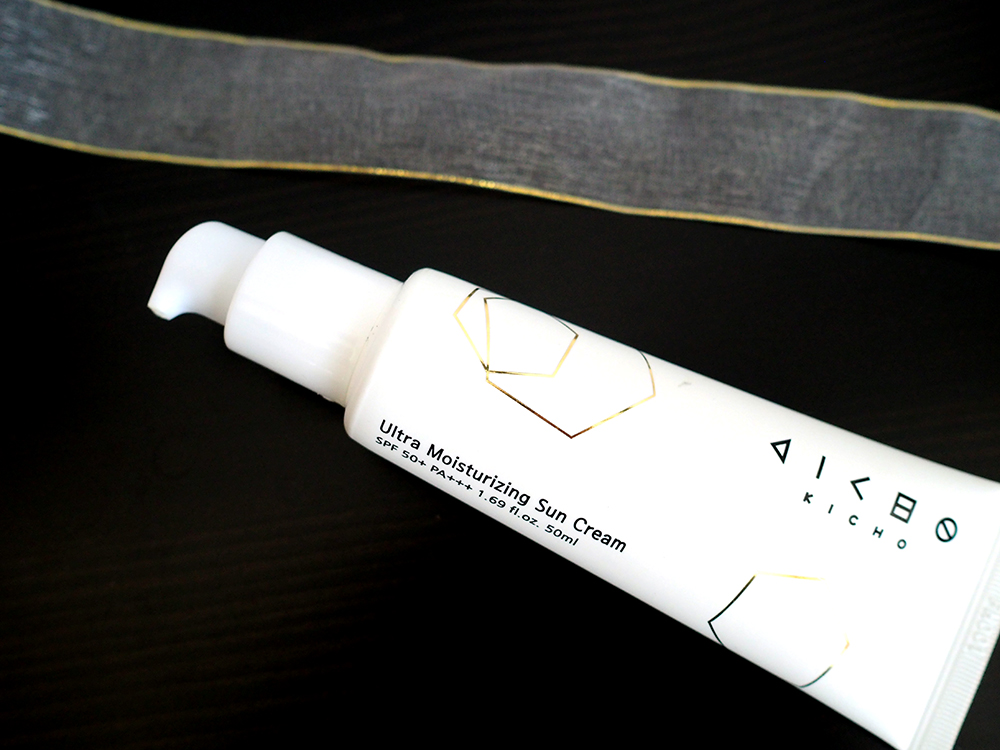 KICHO SHEEP OIL CREAM (LANOLIN + 8 BERRIES)
Lanolin is one of those oldie-but-goodie hero ingredients, it is a natural oil extracted from the wool of sheeps and it is a natural skin emollient. It is the only animal oil that can be obtained with zero harm to the animal—in this case, a sheep. Out of all oils, lanolin is most like our own sebum, which makes it highly compatible, absorbable and gentle on our skin. I had never tried a product containing lanolin before so I was very curious to try this one. The texture may be look thick in the jar but when you apply this cream it does absorb quickly and smells freshy fruity and soooo good!
Kicho's lanolin is obtained by sheeps living in New Zealand and then it is processed in Germany, to get very high quality. Dry skin means the skin is lacking sebum, so this ingredient helps combat dry skin effectively. It will work also for who is concerned with loss of elasticity, dull skin, and dry skin that cracks or itches. In addition to lanolin, this deeply hydrating moisturizer features a complex of 8 berries, all chock-full of Vitamin C, which brightens, and skin-health-boosting antioxidants. It's also a great choice for those who either want to begin anti-aging preventative measures, or who already use an anti-aging regimen. Makes an ideal winter moisturizer for most skin but I can say that it will work also for Spring months being absolutely not heavy or thick. Oily-skin types can get the hydration they too need, with no fear of clogged pores. The texture is somewhere between buttery and custard-like and a little goes a long way.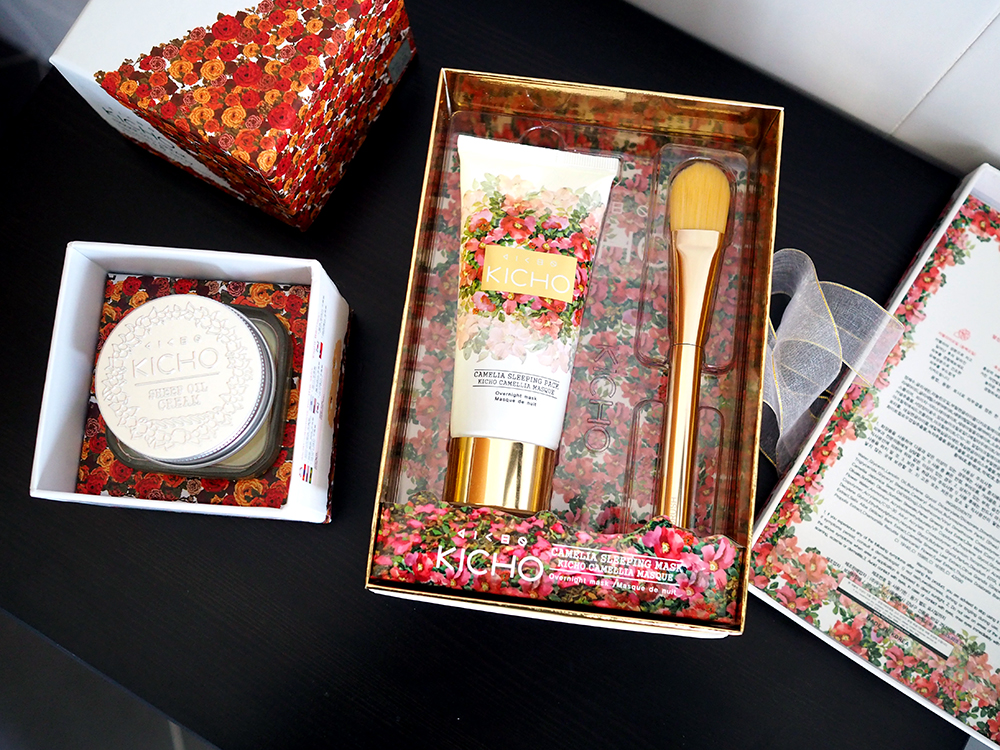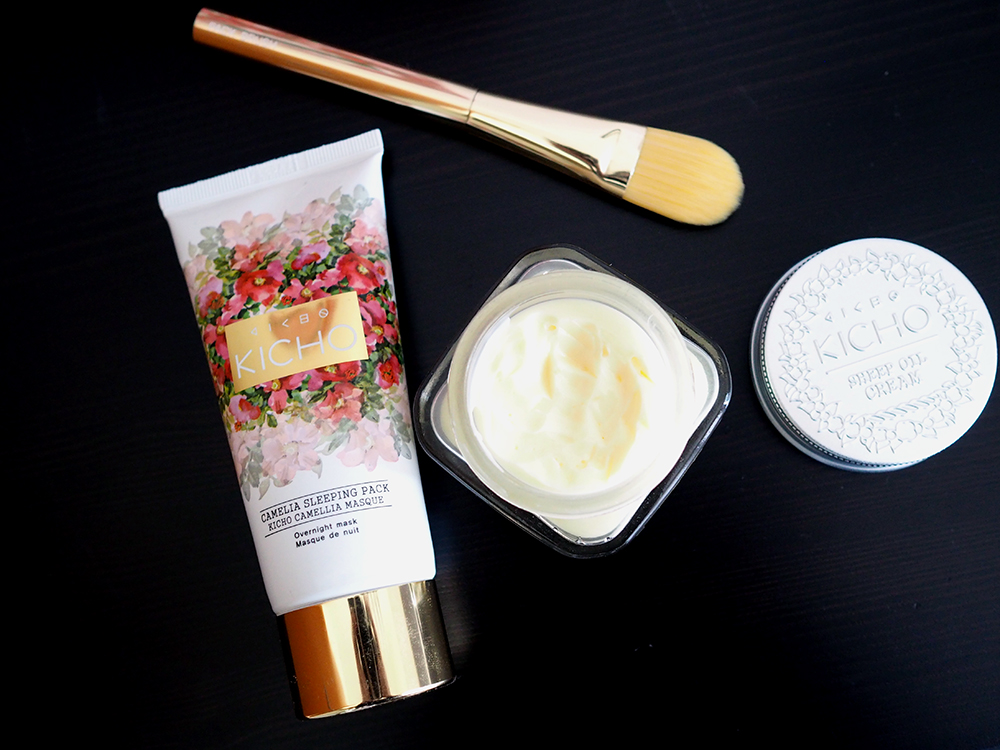 The Camelia Sleeping Pack is an overnight sleeping mask that you apply overnight and that provides your skin with intense moisture while you sleep. It contains camelia oil that softly protects skin dried by harmful substances. Black ginseng extracts, rose water and lanolin. And it comes with a beautiful soft brush to apply it. It was the first time I got a brush to apply a moisturizing product. That you can even use for facial massaging. It has wonderful camelia and rose smell (but not too intense that it's something I don't like, skincare products that are stronlgy scented). The packaging is absolutely beautiful, and containing the brush, it also makes this product the perfect gift for a friend.
I've been always concerned with some dry patches on my face, that got evident when applying make up in the morning. I can say that since I'm using both these products my skin is so soft and well moisturized and with a more compact and smooth skin texture. They really did good!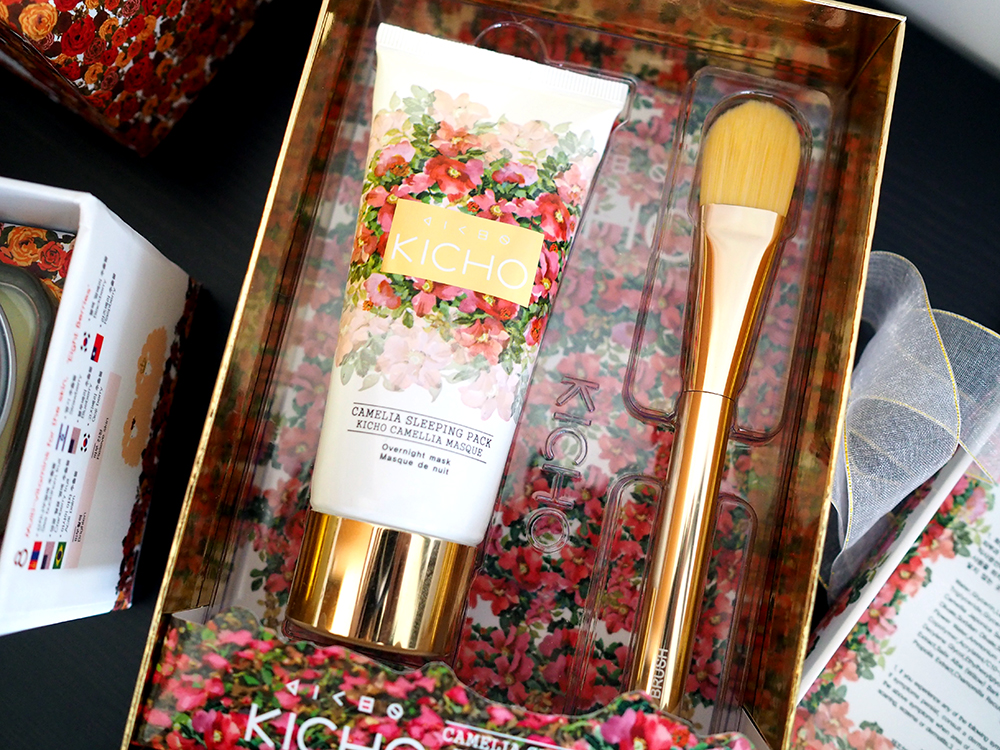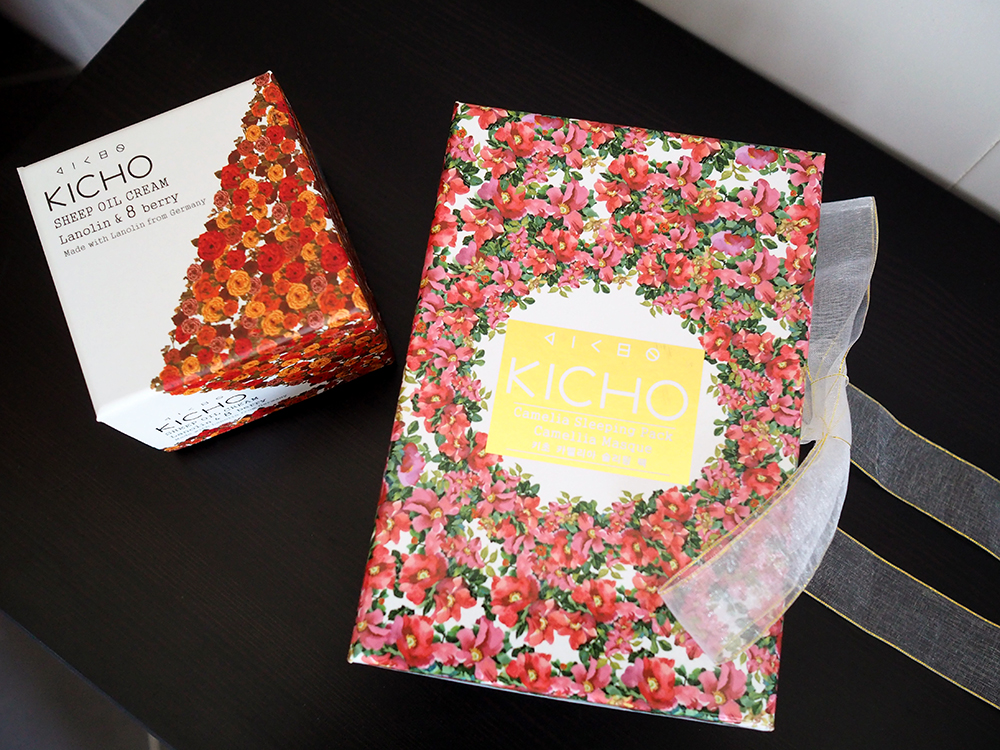 You can find Kicho products online on their own site,
and on more beauty and skincare online shops that ship worldwide.
In the US: The Whole Foods Market, in some Macy's stores (Flushing NY, Santa Anita, CA and more coming soon).
All photos by me.
Salva
Salva